A day at the beach: 'The shark did a big lap around me. That's when I saw my fin in its mouth' | Life and style
A week before a great white shark took my diving fin, I went diving with nurse sharks on the New South Wales south coast. It was epic. I've always really liked sharks and was interested in seeing them in the wild. From what I've been reading and hearing, sharks are really not interested in attacking humans.
Days later, some divers and I headed out on a boat to Martin Island off Port Kembla. It was 13 January 2018 – I'll always remember the date. It was a beautiful day, around 10am, the sun was out and the visibility underwater was at least 20 metres, which is unbeatable. So all the things people say about sharks, about how it's dangerous to swim in low visibility, before dawn and after dusk, that was all out of the question.
I was freediving with two others – you just have a snorkel, mask, weight belt and freediving fins which are about a metre long. Normally in snorkelling or freediving tours, we'd go to the shallow side of the island. But because we were in a tour group that also included scuba divers, they wanted to drop down into deep water. So if we did anything wrong, that was probably it.
It was the first time I'd dived in water that was so deep I couldn't see the bottom; just the sun's rays shining through the deep blue.
I was about two metres underwater and trying to work out how to use my new camera equipment when, out of nowhere, this thing hit me from behind. I just saw bubbles everywhere and couldn't make out what was happening.
The next thing I saw was a tail. There's something about the shape of it– almost like a serrated hunting knife – that made me realise: "Oh, that's a great white shark."
My next memory is my elbow hitting the side of the shark. It felt like a steel hull of a boat, or a submarine. It was so solid, so strong.
The shark did a big lap around me, about a 10-metre circuit, and swimming these powerful zigzags. I remember thinking how fast it was, because it doesn't make sense to your brain to see something that big move that fast in the water.
And that's when I saw my fin in its mouth. It had taken one of my freediving fins off my foot. I still don't know how it missed my leg.
It was swimming directly towards me with its mouth open and I was staring down its throat.
I remember thinking: is it going to hurt? What would it feel like to be eaten? Will it be quick?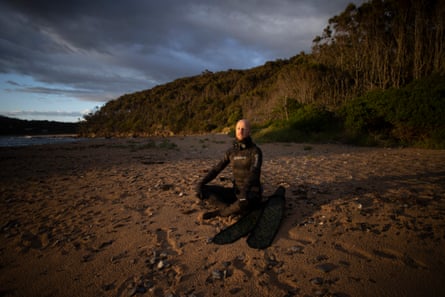 I remember thinking about my family. And whether I'd done enough in my life. There's a lot going on in that tiny little moment.
You read all these things about if you punch a shark in the nose or the eyes or the gills, you can deter it. But I don't think you'd have a chance. Once its mouth is open and it's coming at you at full speed, there's nothing you can do. You're not going to outrun it. I thought the best thing I can do is just keep my eyes on this thing. I'm just lucky that, for whatever reason, it changed its mind at the last second and took off over my shoulder. That's the last I saw of it.
The whole encounter lasted only about 30 seconds. I actually felt better when I could see the shark than when I couldn't. That was when the panic set in. I looked around for the two other freedivers. The one who took the photo, he was already on the island. The other diver and I swam ashore. The three of us walked to the other side of the island where the boat was waiting for us, but because of the waves and rocks, there was still about 10 metres of water between us and the boat. That was a scary little swim.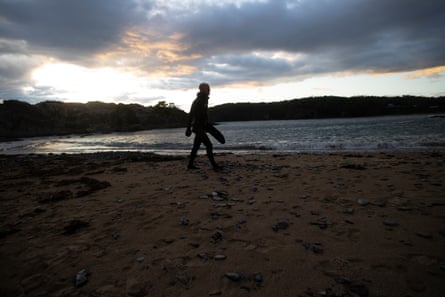 Afterwards, I learned this was likely a curious adolescent shark who took a "test bite". That's when the shark's not sure what you are, so it comes and, unfortunately, explores with its mouth, which can often be fatal for humans.
But most of my memories of the shark encounter are actually positive. It's this amazing, spectacle of nature that you're witnessing. I was totally intrigued and enthralled by the whole thing, as well as fearing for my life. You have all these conflicting emotions, feelings and thoughts simultaneously because your body's in overdrive. The adrenaline high lasted for about two days.
It feels weird looking at that photo – it's like looking at a photo of someone else. But at the same time, I feel very grateful to have it.
It's on my business cards now: Lonely Fin Studios. I've still got the other fin. I figure it's lonely because it misses its mate that's somewhere at the bottom of the ocean.
Denial of responsibility!
WebToday is an automatic aggregator of the all world's media. In each content, the hyperlink to the primary source is specified. All trademarks belong to their rightful owners, all materials to their authors. If you are the owner of the content and do not want us to publish your materials, please contact us by email –
[email protected]
. The content will be deleted within 24 hours.