That, then, is me; James Wallace will be along presently to coax you through England's innings. Otherwise, thanks all for your company and comments; ta-ra.
More of the same really. Netherlands lacked faith in their batting – with good reason, it must be said – so didn't push on in in powerplay or middle overs. Then, when they tried to get it moving at the end, they lost wickets, so here we are. We must, though, credit Bas de Leede and Scott Edwards, who batted nicely, and David Willey, David Payne and Brydon Carse, who bowled well.
WICKET! Van Meekeren b Willey 0 (Netherlands 244 all out); England need 245 to win the series 3-0!
Four for Willey! He slants one across Van Meekeren who tries to smear him over the stand at midwicket but instead does likewise to the o2 around him as the death rattle sounds behind him. That's the last seven wickets lost for just 40 runs.
49th over: Netherlands 243-9 (Klaassen 2, Van Meekeren 2) Klaassen drives to long on for one, then the nice, big man gets away with a drive for two to point.
WICKET! Edwards c Roy b Payne 64 (Netherlands 240-9)
You love to see it! A slower ball foxes Edwards, who's through his shot early, spooning a dolly towards Roy. Payne has been here before, but this time his mate helps him out and that's the end of another fine Edwards innings, giving Payne his first England wicket. What a feeling that must be!
49th over: Netherlands 237-7 (Edwards 64, Klaaseen 1) A leg bye then a wide then a single to start Payne's final over of an impressive debut….
WICKET! Dutt b Willey 0 (Netherlands 237-8)
This is a lovely delivery, a little bit of reverse-tail back in cramping Dutt who tries to flick into the on side but gets nowhere near.
48th over: Netherlands 237-7 (Edwards 64, Dutt 0) Edwards takes one to midwicket, a leg bye gets him back on strike and and another turn to midwicket gives Dutt one ball to survive.
"My parents grew up with music-hall and sang along gladly," emails John Starbuck, "then jazz turned up for the revolutionary young 'uns. I. was born in the 1940s, so I got to hear the whole development of rock 'n' roll. The 1960s were the best, but then everyone's generation values the music of their teenage years, when they heard it first. There were also plenty of occasions when people complained about how samey it was getting, popstars selling out, trying to become all-round entertainers etc. So it goes."
It does indeed. I'm not having that guitar music has been much use since the 90s, whcih is obviously because I was a teenager then, but also find me a band now even as good as Supergrass or the Super Furries, never mind Radiohead, REM, Guns n' Roses or whoever.
47th over: Netherlands 233-7 (Edwards 62, Dutt 0) England's death-bowling has been good today. Whether the same deliveries would work against better batters, who knows, but Payne and Willey have been impressive.
WICKET! Pringle run out (Malan/Payne) 6 (Netherlands 233-7)
Pringle squirts a half-batter into the off side and when Edwards sprints towards to the striker's end for a single that's never there, he sacrifices himself for his captain and team.
47th over: Netherlands 233-6 (Edwards 61, Pringle 6) Scott Edwards is now the leading run-maker in the series, yet to be dismissed by a bowler – not bad. Meantime, Payne takes pace off the ball, so he has to really force two to deep midwicket. A wide follows, then two more to third man and a single into the on side.
46th over: Netherlands 227-6 (Edwards 56, Pringle 6) More singles – where were these in the middle overs? – then Pringle pushes wide of mid on and they run three prior to a sprinted single. But check out Willey's fielding; he scurries after a half-batted nudge, slides to stop it, turns and shies in one movement … only to miss by fractions. Had he hit, Edwards was gawn.
"This is a bit long winded and badly formatted, but hey I work in IT," begins Will Cook. "Back in 2013 my friends and I went over to see Sussex play The Netherlands in Rotterdam, we stayed in Amsterdam and got the train to Rotterdam and tram to Schiedam. Just as we got off the tram the heavens opened. We got into the ground to see Netherland had been 28-2 when the rain came. Spying the bar was open and that there was an empty football bench on the edge of the out field we filled up with beer and rushed over. After about 30 minutes a middle-aged lady turned up and asked if she could shelter with us, it transpired that she was English and married to a Dutchman. Her twin boys bought up in England and Netherlands where both cricketers. One had played for the national side previously and the other was making his debut today. Around two hours (and many jugs of Amstel) later one of her sons ran over to say he thinks its going to be called off, 15 minutes later her other son runs over to confirm it was rained off (the puddles on the outfield had got so deep ducks had started swimming on it). We said good bye to them both and started to trudge back to the tram station.
About halfway along the road a car passed, screeched to a halt and reversed towards us, a guy in Orange shouted out of the driver's window "You going to the tram stop? Jump in I'll give you a lift". Drunk and wet we all jumped, as we neared the tram stop the driver asked
'Where are you boys getting the tram to?'
'The station.'
'Okay, I'll drop you there.'
Not believing our luck we started talking, I was sat behind the driver so thinking it could only be one of the twins I asked "What's it like playing with your brother?" to which the driver replied "My brother doesn't play cricket". The driver was a third Dutch player, Paul van Meekeren, who we hadn't even spoken to who stopped to pick us up. As we neared the Motorway he asked:
'Are you going to Amsterdam?'
'Yes.'
'Okay, I'll drop you there by my favourite bar near the Olympic Stadium.'
Before we had chance to reply he had turned onto the motorway. We had a lovely chat to him about being an international cricketer for 2nd tier nation about his one full international wicket at the time. He was to embarrassed to tell us who it was so we had to Google and it turned out to be the number one ranked ODI batsman at the time Hashim Amla. If you are going to have only taken one wicket that was who to take. When we reached Amsterdam he parked up and unfurled himself from the car, he towered over my 6ft 2 friend. We kept in touch for a while after and I've always followed his career but basically Paul van Meekeren is basically a lovely massive guy. I can also confirm that unsurprisingly the bar was amazing."
45th over: Netherlands 220-6 (Edwards 53, Pringle 2) Foxed by Rashid's turn, Pringle gets down, presents the face, and edges just past slip for one to get off the mark. Three more singles follow, while, in comms, they note that Rashid isn't quite at his best currently – I agree, they'll be delighted to not learn – and from here, even 250 looks a stretch.
WICKET! Van Beek c Rashid b Willey 0 (Netherlands 216-6)
This is the thing, isn't it? You go big early, you end up with a small total, you go big late, you end up with a small total. Van Beek looks to whip off his legs, imparts a leading edge instead, and plops into the hands of mid off.
44th over: Netherlands 216-5 (Edwards 51, Van Beek 0) Willey returns, just what Netherlands need, as the crowd wade deeper into their refreshments.
WICKET! Nidamanuru st Buttler b Rashid 4 (Netherlands 215-5)
Rashid tosses one up and Nidamanuru does exactly what he's meant to do, stepping down the track only to be beaten by a smidge of turn that allows Buttler to do the rest.
43rd over: Netherlands 215-4 (Edwards 50, Nidamanuru 4) A single to Nidamanuru, then Edwards bunts to cover and that's a very well-made fifty – he's a decent player.
Yup, there was an edge.
43rd over: Netherlands 213-4 (Edwards 49, Nidamanuru 3) Rashid begins his ninth over with a goggly that Nidamanuru wears on the back pad. There's an appeal, rejected … and England review! There might've been an edge – I'm sure that's why the umpire said no – but if there isn't, it's dead.
42nd over: Netherlands 213-4 (Edwards 49, Nidamanuru 3) Edwards runs down for one, then Carse cuts Nidamanuru in half like he's a magician's assistant, a bit of reverse hitting thigh and perhaps edge, the ball failing to carry to Buttler. A single follows, then two twos which take Edwards to within one of a fifty, the first paddled to deep square and the second forced to midwicket.
"Everybody seems to be treating this series as a 'normal' one but such is the gulf between the two sides there was never a chance that England wouldn't win every match," says David Mitchell. "We can talk of respecting an outclassed opponent but what does that mean in reality? I suspect the Dutch batsmen are only too aware of the reality and are merely getting a bit of practice under their belts before the 50 overs are done and their opponents knock off the runs with multiple overs to spare."
I think they've got a plan: wickets in-hand then go at the end, but executing is harder than formulating.
41st over: Netherlands 207-4 (Edwards 44, Nidamanuru 2) Off we go with the final powerplay, but before we start, I should note that despite my whining, De Leede batted well and looks a decent talent. Anyhow, Nidamanru turns his first ball into the leg side for one then three further singles follow, and Payne looks really useful. I'm not sure how he forces his way to more appearances, but he's got a cap, which is a start.
WICKET! De Leede c Rashid b Carse 56 (Netherlands 203-4)
Again, Carse puts a little extra into leap, again the ball gets big on a batter trying to book, and again, a skier is well held – this time by Rashid, scurrying from midwicket to forward short and holding on the tumble.
40th over: Netherlands 203-3 (De Leede 56, Edwards 42) Come on! Carse is short but not short enough and De Leede snaps his first ball to the rope and deep backward square. A single follows, then a full-bunger, nipple-high, allows Edwards to absolutely cleanse to the long on fence for five and a free hit; again, though, he tries a mow that puts his collar bones in jeopardy and misses everything.
39th over: Netherlands 192-3 (De Leede 51, Edwards 37) Payne returns and the batters do seem to be going for things now. Edwards heaves two across the line and tries more big shots from the over's four remaining balls, only to miss all of them. That's really good stuff from Payne, who's been impressive on debut.
38th over: Netherlands 190-3 (De Leede 51, Edwards 35) Carse returns, so I shall cling to the possibility that Netherlands use his extra pace to get the ball away. In the meantime, Edwards turns him around the corner for one, then a no ball means a free hit … which Edwards' misses with a colossal heave, doing well not to dislocate both shoulders in the process. Perhaps the wriggle is on, because a turn for two is followed by an industrial mow, a top-edge zooming up among the cirrus and stratus before dropping to fine leg … where Malan grasses a pretty straightforward chance! I didn't expect that from England or from him, and Edwards then sends the final delivery of the over to cover for one.
"Imagine a time when hearing Hey Jude for the first time was just part of the new garden of earthly delights. Imagine one of your first concerts as a 16-year-old being the Stones in Hyde Park; hearing Bob's 'Judas' bootleg album for the first time, when it was still thought to have been recorded at the Royal Albert Hall. Etc etc. As they say, nostalgia isn't what it used to be."
Richard Hirst wants you to know that he's older than you, which makes me wonder as to the optimal time to be born. I reckon 1967 is pretty good, as you get some of the 70s, then are a great age for the Smiths and acid house.
37th over: Netherlands 182-3 (De Leede 50, Edwards 29) De Leede drives Rashid to cover for one, and that's his fifty; he's batted pretty well in this series, and at 22 has lots of time to improve. But milestone achieved, he really must back himself to do something more destructive, because otherwise what's the point? Well, OK, scoring your first half-century while enjoying batting, but surely he's got to do more from here? You may have heard me wonder this before.
36th over: Netherlands 180-3 (De Leede 49, Edwards 28) Curran's first three balls yield one, then De Leede drives three to cover where Carse fields; singles to each batter follow, and that's drinks. Let's be real, Netherlands could do with a livener.
"I enjoyed seeing your Texaco Trophy poster from 1984 earlier," emails Nick Barlow, "and it reminded me of the signed bat that my dad (who was a physiotherapist) got for me via his mate (who was a physio for the England team) in the same year, and presumably from the same competition. I was ten at the time, and although the bat today has a couple of paint drops from an unremembered but surely ill-advised painting session it is one of my most treasured possessions, both for the memories of my childhood and as a small piece of cricketing history."
That's brilliant – I hope Chris Tavaré is on there. On seeing my cards, someone on Twitter wondered whether the personnel had been selected by his mum.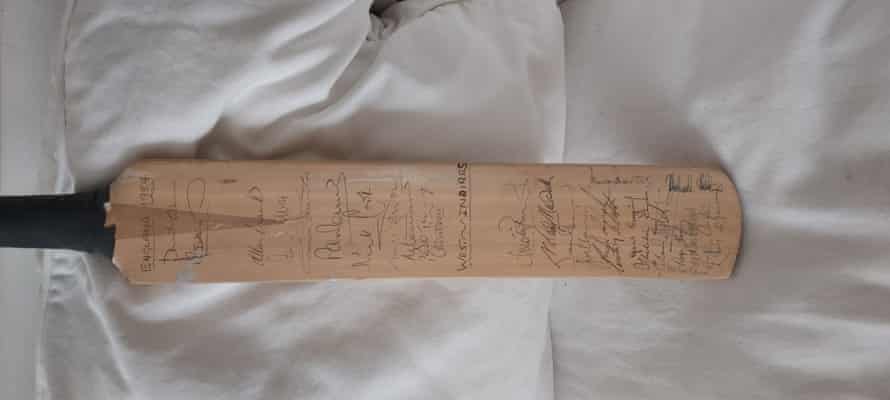 35th over: Netherlands 174-3 (De Leede 45, Edwards 26) Rashid returns at the other end and tosses up his first delivery, but De Leede refuses to hit over the top which puts me in mind of another KP phrase: if it's up it's off, which is what he and Flintoff said to each other during their stand at Edgbaston in 2005. But that's more like it from Edwards, who goes down the ground and crucially commits to the shot, taking four over the bowler's heed. That's the first boundary in tiiiiiime, and three singles follow; that's more like it. Is the sprint on?
34th over: Netherlands 166-3 (De Leede 43, Edwards 19) Curran returns and after a single to each batter, De Leede presses him to cover for two. So Curran digs one in a bit shorter from around and this time De Leede pulls. He doesn't give it everything, but he does find a gap at deep square, so they run two, then does similar to the next ball for one. This is now his highest international score; can he keep going?
33rd over: Netherlands 159-3 (De Leede 37, Edwards 19) In comms, they note that Netherlands are letting the spinners bowl, a phrase you frequently hear KP spit with disgust. Three singles and a two make it five from the over, and I'm boring myself saying this, but I don't fully grasp Netherlands' plan here. If they don't up the rate, they won't set a target even close to competitive.
32nd over: Netherlands 154-3 (De Leede 35, Edwards 16) The rate is down to 4.73 as Rashid's first three balls yield two singles, then Edwards goes back on his stumps to dig out two to midwicket – they've got to run them fast because Curran is onto it, and a dive gets him home. A leg-side wide follows, Edwards missing with his effort to go with the line, but they run one too, then De Leede adds one more. Dare the batters swing for the fences?
31st over: Netherlands 147-3 (De Leede 33, Edwards 13) As he did on Sunday the DJ cranks it up, and the crowd, nicely lubricated one trusts, crank it up with him, hollering along to Hey Jude. When my parents first met my dad played his new record to my mum and that was it – imagine hearing that song for the first time and it being unlike anything you'd ever heard, rather than simply part of the canon. Mindblowing, and please do not fill in the absent parentheses. Two singles and a two from the over.
30th over: Netherlands 143-3 (De Leede 32, Edwards 10) Two singles begin this latest Rashid over, on which point is it just me who'd like to see him back in the Test reckoning? Anyhow, De Leede then steps down to him, stroking to deep extra, where Willey does really well to slide into a stop that saves two; a single follows.
29th over: Netherlands 138-3 (De Leede 28, Edwards 9) I guess wickets in hand and a last-10 overs slog makes some sense, but I do wonder if Netherlands are capable of more than we're seeing, if they could just stop worrying about being skittled. They take five singles off Livingstone's latest over, Edwards surviving a scare when he top-edges a sweep, but the ball doesn't reach the man at backward square.
28th over: Netherlands 133-3 (De Leede 25, Edwards 7) I know it's hard not to, but Netherlands are letting England's spinners bowl here. At the end of the over, De Leede tries to use his feet, but he can only nudge to mid on for one, adding that to a wide and single taken by Edwards to cover.
27th over: Netherlands 130-3 (De Leede 24, Edwards 6) "240's not going to cut it," notes the suddenly retired Pieter Seelaar, and he's right; can his former charges get beyond it? Well, after De Leede takes a single to long off, Edwards unfurls the reverse, earning three past backward point; two to cover point follow, and that's a better over for Netherlands, six from it. The same from here gets 268, but as Seelaar says, that won't be enough either.v
26th over: Netherlands 124-3 (De Leede 21, Edwards 3) Rashid's not looked as threatening today as in the first two matches – I guess the pitch is deader – and he's taken for four singles in this, his third over.
25th over: Netherlands 120-3 (De Leede 19, Edwards 1) This is the key partnership now: if England can break it quickly, they'll fancy themselves to wrap things up pretty quickly. And Livingstone begins with a ripper, turn then bounce too good for Edwards' outside edge. Two more dots follow, then a single to long off completes an excellent over.
WICKET! O'Dowd c Buttler b Livingstone 50 (Netherlands 119-3)
Fifty and gone! Livingstone finds a bit of extra dip, if we're being generous, and O'Dowd, reaching to drive, edges behind. He lingers, hoping it's not true, but it is and he's now hutchward-bound.
24th over: Netherlands 118-2 (O'Dowd 50, De Leede 18) De Leede drives Rashid to long off for one, then O'Dowd nudges the single that raises his fifty – well batted sir. Another single follows, and England will be happy with how these middle overs are vanishing.
23rd over: Netherlands 115-2 (O'Dowd 49, De Leede 16) O'Down bangs to cover and they run two before getting down the other end with a similar shot; I said De Leede was unensconced, but I'm not saying it now, because he steps down the track to turn a flighted ball into a half-volley, whacking four to deep backward point. A single off the final delivery of the over means he retains the strike, and his team really needed that boundary.
22nd over: Netherlands 107-2 (O'Dowd 46, De Leede 11) Now it's Rashid into the attack and O'Dowd sends his second ball to cover for one. He brings in a slip for the unensconced De Leede, who duly twizzles him to midwicket for two, and after some decent pre-drinks hitting, Netherlands need to get themselves moving again.
21st over: Netherlands 104-2 (O'Dowd 45, De Leede 9) O'Dowd nudges into the leg side and runs through for the single which raises his team's hundred. This is a better over from Livingstone, sort of – his next ball goes contacts pad, rears up, and there's a muted appeal for a catch, but now bat involved. A single down the ground follows, then a leg-side wide … and a drop? No, though Buttler couldn't hold on, O'Dowd's edge was beaten, and another wide com[pletes the scoring for the over.
20th over: Netherlands 99-2 (O'Dowd 44, De Leede 8) Five dots from Carse, but then some width … and De Leede can't turn that away, unloading the suitcase to cream four through backward point.
19th over: Netherlands 95-2 (O'Dowd 44, De Leede 4) Time for some spin, but it's not Moeen or Rashid, it's Livingstone. His ability to bowl leggies and offies will be invaluable to this team – he looks a lock for both World Cups, or Worlds Cup now – but this isn't a great start, milked for four singles and a two.
"With Paul Van Meekeren being brought in for the Netherlands and David Payne winning his first cap," says Dave Walklett, "I was wondering when was the last time two Gloucestershire players faced each other in an international? Perhaps in the days of Jack Russell and Courtney Walsh or Zaheer Abbas but it doesn't happen often."
That is a good question – I'd go with the former.
18th over: Netherlands 88-2 (O'Dowd 42, De Leede 0) Carse is one of those bowlers who you can tell is giving every ball everything, but as he raced in before taking the wicket, you could see a little bit extra in his leap; he got his reward. O'Dowd takes a single to leg, and I should note that his fine partnership with Cooper was worth 62.
WICKET! Cooper c Livingstone b Carse 33 (Netherlands 88-2)
Carse leaps into his delivery stride, bangs it in, and Cooper hooks … but running around the fence to deep backwards square, Livingstone does really well to avoid losing the ball in the sun and not even trying to catch it, never mind sliding underneath it to make a tricky grab look routine.
18th over: Netherlands 88-1 (O'Dowd 41, Cooper 33) Nice from Cooper, who eases opens the face to ease Carse to the third man fence.
17th over: Netherlands 84-1 (O'Dowd 41, Cooper 29) Curran clouts O'Dowd on the pad and appeals … it looked pretty decent too, definitely hitting the stumps but perhaps pitching outside the line … and it did, just. That's ridiculously good umpiring from Paul Reiffel and a decent over from Curran too, four dots then two singles taking us to drinks. Netherlands are pretty well-placed now, if they can up the tempo, and how costly might that missed catch turn out to be?
16th over: Netherlands 82-1 (O'Dowd 40, Cooper 28) To stem the flow of runs, England have pulled back their lengths, and Carse begins his third over with three dots. Cooper then takes a single to midwicket, a slower ball drifts down leg for a wide, then O'Dowd forces a run-down for one more.
15th over: Netherlands 79-1 (O'Dowd 39, Cooper 27) This is excellent stuff from Netherlands, and when Curran sits one up outside off, O'Dowd clatters it to the rope at midwicket. Four singles – there we go! – follow, along with a wide from a high bouncer, and I'd not be surprised to see Rashid or Moeen take the next over from this end.
"When I was about 12, growing up in Houston," says John Foster, "we had an absolute [bleep] of a school football (soccer) coach. Apart from the usual sadism – which can quickly become unusual sadism in 95 degree temperatures – he'd wear really short shorts (it was the 90s, they did things differently then). Anyway, at that age many of us were reluctant to get our body behind any ball above waist height, so instead of chesting it down we'd side-step it and stick a futile, dangly leg out. Whenever this happened in training, he'd run up to the culprit and chant 'SEXY LEGS! SEXY LEGS!' while kicking his bare legs into the air, doing a dance that was sort of a cross between the Can-Can and the Arrested Development chicken dance. This would go on for up to two minutes."
I once forgot my swimming kit, on purpose, told the teacher and he he said he'd given up on me. I returned to the changing room, relayed this along with some choice invective about the teacher, turned around and there he was. He took me outside, puffed out his chest in my face, and blew off my kippa with the ferocity of his shouting, letting me know that he'd love to headbutt me. It turned out the pool was screwed and they played football instead.
14th over: Netherlands 70-1 (O'Dowd 33, Cooper 25) That's more like it! Cooper stretches for a wide one, driving to deep cover for one, then when Carse tries a bouncer, he goes back and properly collars it for four over midwicket! An inside-edge then gets him down the other end – more of this, please – before Cooper pulls off the hips for four more, raising the 50 partnership in the process! Ten off the over, and Netherlands needed that.
Denial of responsibility!
WebToday is an automatic aggregator of the all world's media. In each content, the hyperlink to the primary source is specified. All trademarks belong to their rightful owners, all materials to their authors. If you are the owner of the content and do not want us to publish your materials, please contact us by email –
[email protected]
. The content will be deleted within 24 hours.