Wicket! Bracewell c Crawley b Broad 13, NZ 265-7
Broad finally gets the replacement ball he's been agitating for and gets Bracewell with his second ball with it, angling one in that moves away a tad, takes the edge and is snaffled at second slip by Crawley. There's his birthday present.
106th over: New Zealand 265-6 (Mitchell 87 Bracewell 13) Leach gets one to spit sharply out of the rough into and past Bracewell's body, which Foakes takes well. There's stuff to work with now has a more attacking field set for him on the legside. But Bracewell's an assured player on the onside and sweeps in front of square along the ground for a single. A less adventurous field is set for Bracewell, who clobbers the fifth ball of the over high over the bowler's head for four. But I'm liking the way Leach is being deployed here – good cricket all-round.
105th over: New Zealand 260-6 (Mitchell 83 Bracewell 12) Bracewell swipes a shorter ball from Broad through midwicket for two, prompting the bowler to give the ball another disapproving stare. Stokes then proffers it to umpire Erasmus who once again turns down a replacement request. Are England getting too fixated with this?
104th over: New Zealand 257-6 (Mitchell 83 Bracewell 10) "It feels like a bowling day," chirps Mark Butcher in the commentary box, but England only have one wicket to show for it so far when they should have had three. Bracewell on-drives Leach's first ball for a single, giving the left-arm spinner a go at the right-hander, which the career stats suggest he prefers. He goes over the wicket at Mitchell, seeking to find a bit of rough outside leg-stump. Nothing much happens yet mind.
"Time to pull this cricviz 'broad is the unluckiest bowler' tweet back out from 2019," writes Elliott Carr-Barnsley:
103rd over: New Zealand 256-6 (Mitchell 83 Bracewell 9) Broad v Mitchell is also an absorbing contest, probing accuracy versus discipline. Neither runs nor chances ensue in another maiden. And that's drinks.
"I'm not surprised England are dropping catches in the slip cordon," tuts Tim Lezard. "Did anyone else spot how many times the ball was dropped as the slips threw the ball to each other yesterday?"
102nd over: New Zealand 256-6 (Mitchell 83 Bracewell 9) Leach is introduced to the attack, at about the same time as he was yesterday. Bracewell takes him on third ball, sweeping in front of square on the legside for four. He's put in a bit more bother off the final ball of the over, which jags sharply into him. This could be a good little contest.
101st over: New Zealand 252-6 (Mitchell 83 Bracewell 5) There's talk of rain in Wakefield, but none a few miles further north, thankfully. Broad bowls a disciplined length at Mitchell, who has no option but to play out a maiden.
"The solecism 'Notts Forest' occurred earlier this year in the first episode of 'Sherwood' (BBC1), when Alun Armstrong's character used it to refer to Trevor Francis, a couple of local lads knowing nothing about him," adds John Starbuck. "There was a big row about this and the writer later apologised. Armstrong's character was killed off (with an arrow) at the end of this episode and quite right too. Some things are beyond the Pale." Yeah that was a jarring note in an otherwise compelling drama. But why was Armstrong's character killed?
100th over: New Zealand 252-6 (Mitchell 83 Bracewell 5) England could do with preventing Bracewell getting too set here – a wild swish and a miss outside off gives Potts some encouragement, though the batter is subsequently watchful. Potts continues to offer decent variety though, nipping in and swinging away in due course – he also prevents a certain four when sprawling on the deck to cut out a crisp straight drive. His third maiden of the morning.
99th over: New Zealand 252-6 (Mitchell 83 Bracewell 5) Broad replaces Overton at the Kirkstall Lane, and as if responding to the introduction of the celebrappeal king, DRS cranks back into gear again. His spell starts with a leg-bye. Bracewell is off the mark with a lovely coaching-manual on-drive for four, before another drop – a perfect speared-in delivery at the left-hander that is fended to Bairstow at second slip but he can't cling on. Did he go too late?
More from The Thoughts of Gary Naylor: "Regardless of performances on the field, the Man (or Woman) of the Match is whoever set the ticket pricing structure." Yep, who knew that there are other ways to fill a cricket ground than pricing it solely in the interests of champagne-cork-on-the-outfield-popping dullards?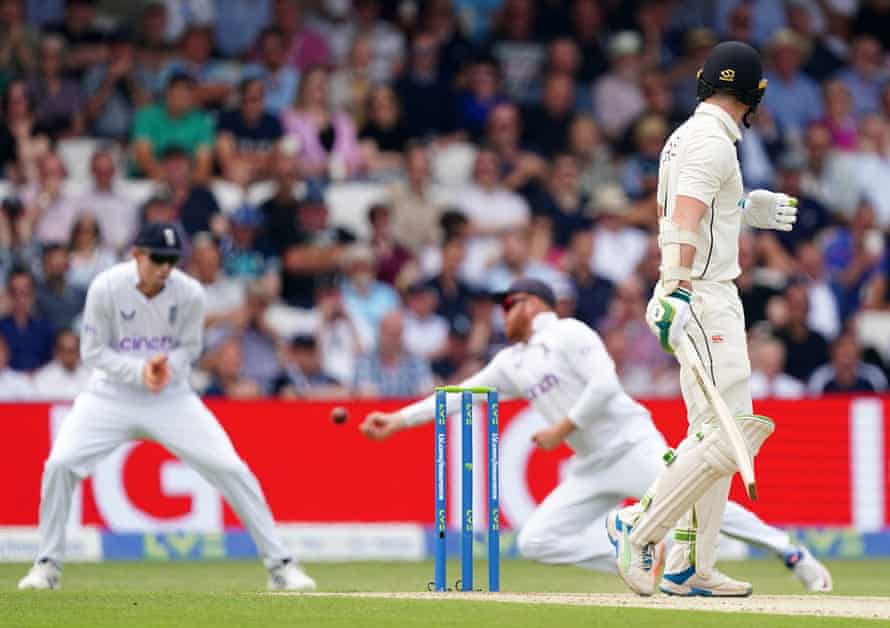 98th over: New Zealand 246-6 (Mitchell 82 Bracewell 0) Nasser Hussain takes over on commentary, and immediately – and rightly – apologises for Atherton's "Notts Forest" howler, and all is right with the world again. Potts tests Bracewell with one angled in just outside off that the left-hander leaves adroitly. Potts's lengths are asking more questions than Overton's shorter ones are at the moment. Given that, I'm not sure England need two out in the deep on the legside. Another good maiden though.
97th over: New Zealand 246-6 (Mitchell 82 Bracewell 0) Bracewell is on the front foot to a rare pitched-up ball from Overton but an elegant cover drive goes straight to mid-off. A bouncer, and no-ball, ensues. Broad wants another look at the ball, continuing a pernickety theme of this match, but the umpires see nowt wrong and Overton carries on with it, and keeps the new batter on his toes with some more speared-in short stuff from round the wicket. A leg-bye completes the over.
"I wonder if, in the umpires' subconscious, they take into account the fact that a worthy appeal for LBW was not given yesterday?" ponders William Hargreaves. "Might make giving an LBW decision a little easier?" I wondered that too, given that it was the same bowler at the same end.
96th over: New Zealand 244-6 (Mitchell 82 Bracewell 0) DRS breaks down, England perk up, as Potts traps Blundell in front with one slightly slanted in. It could have been missing leg but in real time I think you'd give it. This match continues to generate talking-point dismissals, but this is how it used to work in the olden days, kids. Potts is round the wicket at the left-handed Bracewell, who plays out the over.
Wicket! Blundell lbw b Potts 55, NZ 243-6
The DRS system needs to be turned off and turned on again, prompting a brief delay to the start of Potts's over. For the moment, we're DRS-less. And wouldn't you know it, Blundell is trapped in front with one similar to yesterday's at Mitchell. The umpire's finger goes up – and there's nothing the batter can do about it. Potts has his deserved scalp at last.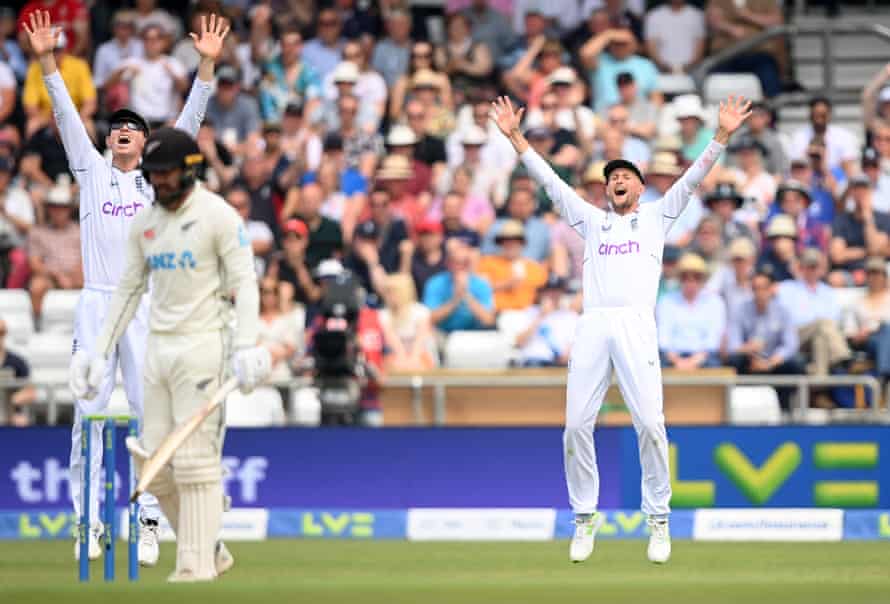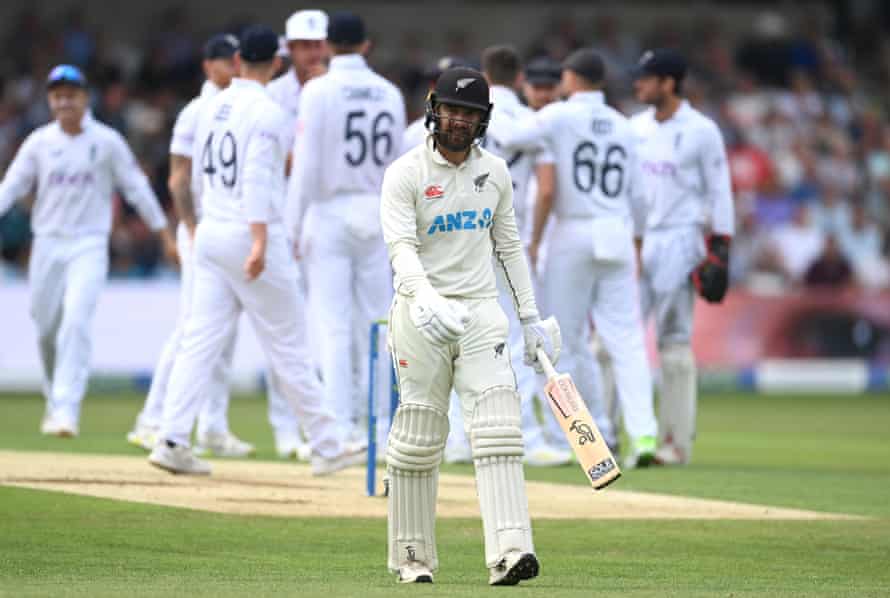 95th over: New Zealand 243-5 (Mitchell 82 Blundell 55) More good running from this pair, as Blundell nabs a quick dabbed single off Overton, who then strays down legside and a deflection off Mitchell's pads speeds to the ropes for four leg-byes. Mike Atherton on Sky comms errs by describing Stuart Broad's football team as "Notts Forest". The pedantic subeditor in me just cannot let this sort of stuff go uncommented upon.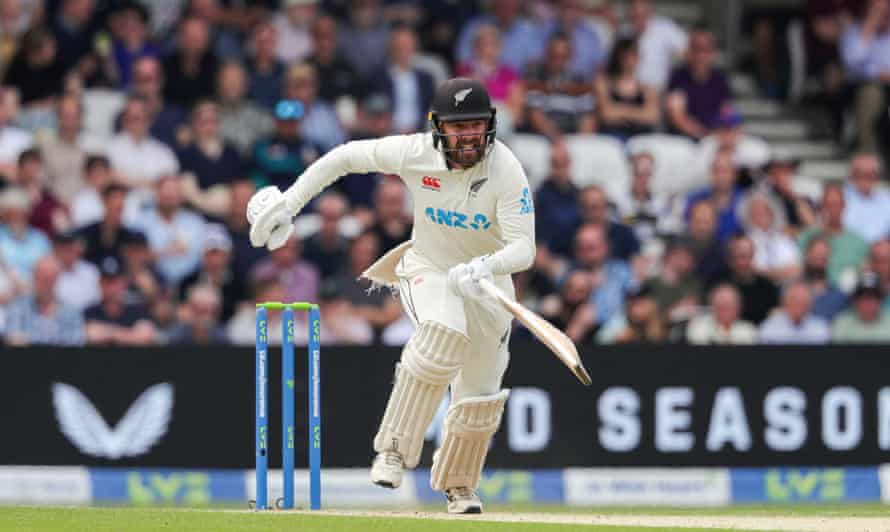 94th over: New Zealand 238-5 (Mitchell 82 Blundell 54) More disciplined line and length fare from Potts, and Mitchell is forced to be watchful. First maiden of the day.
"I've a nasty feeling that 300 will be a very good score," reckons Gary Naylor. "England will go hard at the ball and the edges will carry. You can't defy the batting gods indefinitely before they wreak their revenge." Yes, though this is looks like a fine surface to bat on, there's plenty on offer for bowlers, and indeed fielders.
93rd over: New Zealand 238-5 (Mitchell 82 Blundell 54) Overton continues to find pace and bounce, forcing Blundell to mistime a pull into his body, but when the bowler repeats the delivery Blundell gets right on top of it and pulls it square beyond a diving Bairstow for four. Bairstow has better luck when smartly stopping a repeat of the shot next ball.
92nd over: New Zealand 234-5 (Mitchell 82 Blundell 50) Potts begins from the rugby stand end. He maintains yesterday's decent, tight and probing length but luck continues to elude him, as Mitchell is dropped, when Foakes dives across Root at first slip to try to snaffle the edge and parries it to the deck. That was Root's to take all day long
"We all like a good laugh," writes John Starbuck, "but does any other sport celebrate pratfalls as much as cricket does?" Basketloads of "gaffes and own goals" videos would suggest football has a good go too.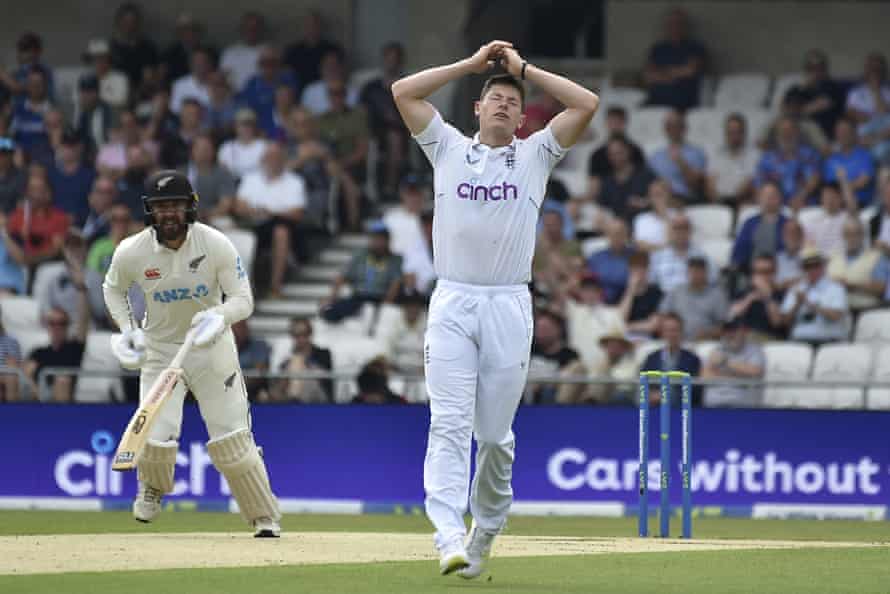 91st over: New Zealand 232-5 (Mitchell 80 Blundell 50) Jamie Overton gets first use of the 10-overs old ball, from the Kirkstall Lane End. A tentative field with two slips but two men out deep is set for him. Mitchell clips him away for a single second ball to get NZ up and running for the day. Blundell is then squared up by one that spits brutally off the surface and hits him near the shoulder – that's what Overton offers. A hurried single follows next ball. And Mitchell does likewise to keep things ticking over. The first boundary of the day – a squirt beyond second slip that speeds to the ropes – then brings up Blundell's 50, another accomplished half-century.
Ben Stokes leads England out, Blundell and Mitchell follow them. Headingley looks gloriously packed.
A note of encouragement for NZ, and foreboding for England:
Here you are for yer overseas TMS link – thanks to Raiza Ballim for the prompt.
"Talking of strange dismissals," writes 1980s sports guru Steve Pye: "I've always had a soft spot for Wayne Phillips and the 1985 Ashes incident. Probably helps that I'm English."
Yeah I remember that – a massive moment. Australia had been digging in and recovering from the previous evening's Richard Ellison-inspired collapse, then that freak dismissal prised it open again. An English win masterminded by players that swiftly faded from prominence at international level thereafter – Ellison and Tim Robinson.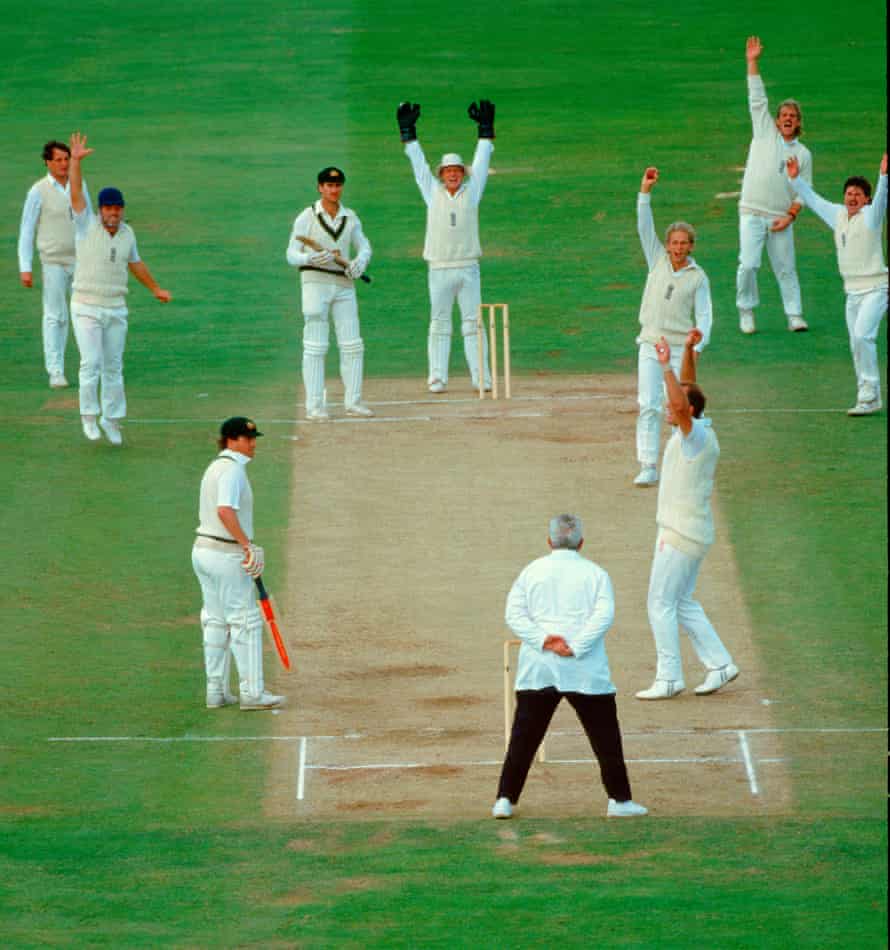 True to forecasts, it's a bit cloudy in LS6 this morning. The ball is still pretty new. England will have chances.
It's not often a spinner takes centre-stage on a first day at Headingley, but things happen around Jack Leach at this place, and – having bowled well with the hard ball – he then took the most talked-about wicket of the series. And here's some pre-play reading about it from our Jonathan Liew:
Though those who've played the game at a more, er, rudimentary level know that these kinds of things do happen in this great game of ours:
Who'd have thought, at the start of this series, that its two most unshiftable New Zealand batters would be Daryl Mitchell and Tom Blundell? But for the third Test in a row, here we are, the pair adding to their restorative partnerships at Lord's and Trent Bridge with another one at Headingley that meant a day that looked set to be firmly England's ended up even.
Of course, if England hadn't been so curiously timid in opting against reviewing a denied stonewall lbw shout against Mitchell when on eight, I could be filling this preamble with more paeans to the Red-Ball Reset. We may yet get to do so later of course – this Test is beautifully poised and a couple of wickets in the first hour will put the hosts back in the ascendancy on a surface that looks a pleasure to bat on.
The weather, however, could get a little more Headingley-ish in the next couple of days, which might add a note of jeopardy and put a spring in the steps of bowlers. Whatever, you'll want to keep following. It's Leeds, where Stuff happens, as we have already seen with Henry Nicholls' outlandish dismissal yesterday.
Bring it all on. Play starts at 11am BST.
Denial of responsibility!
WebToday is an automatic aggregator of the all world's media. In each content, the hyperlink to the primary source is specified. All trademarks belong to their rightful owners, all materials to their authors. If you are the owner of the content and do not want us to publish your materials, please contact us by email –
[email protected]
. The content will be deleted within 24 hours.