MANCHESTER, N.H. – EXCLUSIVE – Ken Cuccinelli, a former top Trump administration official, says "the mission" of a recently formed super PAC he's heading up is to help Republican Gov. Ron DeSantis of Florida get off "to a much faster start" if he declares his candidacy for the 2024 GOP presidential nomination.
Cuccinelli, a former Virginia attorney general and the 2013 GOP gubernatorial nominee who later served as acting deputy homeland security director during the last two years of former President Donald Trump's administration, last week launched the "Never Back Down PAC."
Though Cuccinelli was a strong advocate for some of Trump's hardline and controversial immigration policies during his tenure in the nation's capital, he spent Wednesday and Thursday talking about DeSantis to voters in Iowa, the state that kicks off the Republican presidential nominating calendar, and Friday and Saturday he was in New Hampshire, which holds the second contest. Cuccinelli was meeting with influential Republicans in both of the early voting states.
"The mission is to touch as many individuals, particularly of influence, that I can to get a read on those two states and to introduce, in more detail, Gov. DeSantis to these communities," Cuccinelli said Friday in a national exclusive interview with Fox News.
2024 WATCH: FORMER TOP TRUMP ADMINISTRATION OFFICIAL HELPING DESANTIS
"As you might expect, Republicans across the country have their own idea about who Gov. DeSantis is. But no one knows everything. I don't know everything. But I can provide them a lot more details and a lot more information on his positions, on his life story, on how he's functioned so successfully as the governor of Florida, where I believe he's been the best chief executive we've at the governor or presidential level in decades," Cuccinelli emphasized. "And that's really his calling card. People are very impressed with how well he's done. And so we're trying to give people an organizational focus early in the race."
Cuccinelli said he's "trying to provide an organizational center with the super PAC so that people can start getting ready if he [DeSantis] does decide to get in, which looks likely… that we'll already have prepared the ground for him and he'll be off and running to a much faster start than he otherwise could have pulled off."
COURTING DESANTIS: THESE GROUPS ARE URGING DESANTIS TO RUN FOR PRESIDENT
DeSantis saw his popularity soar among conservatives across the country over the past three years due to his forceful pushback against coronavirus pandemic restrictions and his aggressive actions as a culture warrior going after the media, corporations and teachers' unions. The governor scored an overwhelming 19-point gubernatorial re-election victory in November, and in recent speeches, he has been spotlighting that his policy victories in Florida can serve as a roadmap for the entire nation.
Sources in DeSantis' wider political orbit have said any presidential campaign launch would come in the late spring or early summer, after the end of the current legislative session. However, the governor's latest travel itinerary to the early voting states of Iowa and Nevada and a trip next month to New Hampshire — first reported by Fox News — are sparking more speculation about an increasingly probable White House run. 
The governor is also traveling across the country highlighting his "Florida blueprint" and promoting his newly released memoir, "The Courage to Be Free." And while he currently remains on the 2024 sidelines, DeSantis is in the top tier in just about every early 2024 poll, slightly behind Trump — who launched his third White House campaign in November – and far ahead of the rest of the field of actual and potential Republican presidential candidates.
WHO'S IN AND WHO'S ON THE SIDELINES — YOUR GUIDE TO THE 2024 GOP PRESIDENTIAL NOMINATION RACE
Super PACs, known as independent expenditure-only committees, are legally allowed to raise unlimited sums of money from corporations, unions, associations and individuals, and to spend unlimited sums to support or oppose political candidates. Unlike traditional PACs, they are prohibited under long-standing federal rules from either coordinating or contributing directly to a candidate or candidate's campaign. 
Two existing super PACs — titled "Ready for Ron" and "Ron to the Rescue" — which are not affiliated with DeSantis or his political circle are already up and running, raising money as they urge the governor to launch a presidential campaign. But sources in DeSantis's wider political orbit have described those groups as "a grift — plain and simple."
Two sources familiar the thinking of DeSantis's political world told Fox News last week that "Never Back Down PAC" would likely have the governor's blessing should he go forward and run for the White House.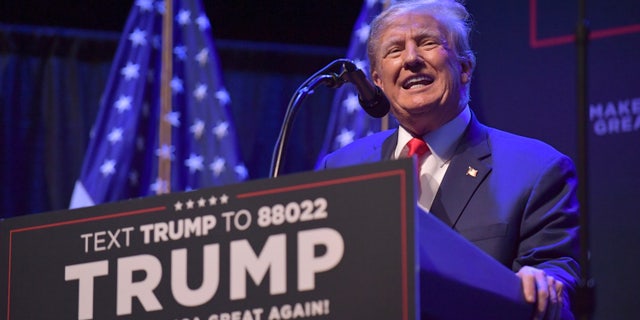 Asked by Fox News why he didn't support his former boss, Cuccinelli said: "Don't read what I'm doing here as anti-anybody, including anti-Trump. The fact that there are A-grade candidates doesn't change the fact that Ron DeSantis is the A-plus candidate in this race. He is head-and-shoulders, in my view, above all the other options for America. And that's how I decide."
"This isn't some pal thing. This is [about] what is best for America," Cuccinelli said. "Other people might come to different conclusions. But I've thought about this for months. I've talked to people in over half the states, grassroots folks…. I'm getting a lot of that same response."
Cuccinelli said he told Trump of his plans to form a pro-DeSantis super PAC, explaining that "we texted back-and-forth. He texted me the night before we announced it, which tells me that wasn't likely a coincidence. It was friendly and I was very forthright with him about what I was doing and why in simple terms."
"I haven't heard since then," he added.
Trump and his allies have increasingly targeted DeSantis in recent weeks, and Cuccinelli's super PAC may eventually get dragged into the political crossfire.
CLICK HERE TO GET THE FOX NEWS APP 
"You never just sit back when you're being pummeled," he noted.
But pointing to efforts by DeSantis to mostly ignore Trump's attacks, Cuccinelli said: "I think Gov. DeSantis has shown the way to handle that is to point to the record. Scoreboard. He was a baseball player. Point to the scoreboard. Whether it's COVID or whether its opportunity for businesses, keeping children in schools. He has a spectacular record, often at odds at what was going on in Washington, including in the Trump administration."
Denial of responsibility!
WebToday is an automatic aggregator of the all world's media. In each content, the hyperlink to the primary source is specified. All trademarks belong to their rightful owners, all materials to their authors. If you are the owner of the content and do not want us to publish your materials, please contact us by email –
[email protected]
. The content will be deleted within 24 hours.