'I felt I wouldn't be taken seriously': Riley Keough on movie-making, friendship and privilege | Film
In 2015, Riley Keough was in a motel in South Dakota waiting to shoot a scene in Andrea Arnold's American Honey. As the hours dragged, she got chatting to a couple of extras, Bill Reddy and Franklin Sioux Bob, two Native American men who'd grown up on the nearby Pine Ridge Reservation. "It was one of those situations where we started talking, and we just didn't stop," Keough says. "Then lunchtime came, and I found myself going, 'Can I sit with you?'"
Keough and the two men swapped numbers and, after shooting wrapped, she flew from Los Angeles to the reservation for a holiday – joined by her friend and producing partner Gina Gammell. For a couple of weeks, they drove around, having fun, messing about making music videos for Sioux Bob, a musician. "We were 26 and had nothing to do, so we just spent the summer hanging with our friends. It was a beautiful summer friendship."
That spur-of-the-moment holiday was the first of many visits, and the beginning of a creative partnership. Seven years later, it has led to a film, War Pony, directed by Keough and Gammell, working from a script by Reddy and Sioux Bob (with Gammell), writing about growing up on the reservation.
War Pony is the story of two young Oglala Lakota men on "the rez" whose lives cross paths at the end of the movie. Bill (Jojo Bapteise Whiting) is a charismatic 23-year-old who is equal parts swagger, hustle and sweetness. He's meant to be finding the money to bail out his girlfriend. But, instead, Bill blows $1,000 on a poodle ("a white lady's dog" says his ex, rolling her eyes with amusement and contempt) and hatches a get-rich scheme to breed dogs.
Then there's Matho, an impulsive 12-year-old, whose problems begin when he steals crystal meth from his drug dealer dad. Amazingly, both actors are first-timers, cast from the reservation. "Non-professionals is the term," says Keough. "But I hate that, because they're very professional." War Pony won the Caméra d'Or award for best debut feature at the Cannes film festival last year.
Today, Keough is talking by phone, joined by Gammell in Vancouver where they are working on another film together. The pair met in their early 20s in LA, introduced by mutual friends. Within two weeks, Keough had more or less moved into her apartment, Gammell tells me: "I'd say that Riley was more homeless than she appeared when I first met her."
She is joking when she says "homeless". Keough is Elvis's granddaughter and the daughter of Lisa Marie Presley; for a couple of years when she was small, Michael Jackson was her stepfather; later it was Nicolas Cage. So how did she end up with no place to live?
"My family were living in England at the time, she says. "So, whenever I was in LA I would just stay wherever I was welcome. That was Gina's for a while." As an interviewee she is friendly, but defensive, even a bit prickly; she has the wariness of someone who has grown up in the spotlight.
Keough has wanted to write and direct for as long as she can remember. But, until recently, she has been acting, landing her breakthrough film role in Max Max: Fury Road – and appearing in American Honey, and the TV shows The Girlfriend Experience and Daisy Jones & the Six. As a young actor, she is the first to admit that her privilege opened doors: "Amazing opportunities! I walked into agencies, met with agents." But it left her racked with doubt: "I felt that I wouldn't be taken seriously."
Before the interview, I receive strict and understandable instructions from Keough's publicist to avoid personal questions. In 2020, her brother Benjamin killed himself at the age of 27. Her mother died suddenly this January. A few days before we speak, the tabloids gleefully whoop up rumours of a legal wrangle between Keough and her grandmother Priscilla Presley over Lisa Marie's estate.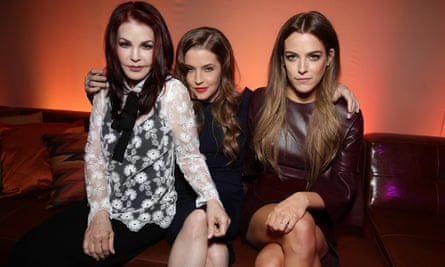 About the film, I'm curious how Keough and Gammell approached directing an Indigenous story. One of the film's producers, the Native American film-maker Willi White, has spoken of his previous negative experiences of film-makers from outside the community swooping in and extracting stories from the reservation. "They generally tell the same story," said White. "Because what they see is only at the surface level; it's poverty, it's hardships and challenges." He believed these films directly increased prejudice against the community locally and reinforced harmful stereotypes.
By contrast, War Pony is a collaborative effort. It's written by Reddy and Sioux Bob (with Gammell). All the Native American parts in the film – most of the cast – are played by Indigenous actors. Non-Indigenous crew were given "cultural competency" lessons before the shoot. But did Keough and Gammell have anxieties as white film-makers taking on directing duties?
Not initially, says Keough, when they were just messing around, without a script or financiers. "There wasn't anxiety because we didn't even know if this was a real thing. Nobody in Pine Ridge thought this was a real movie. A lot of us thought it was going to go nowhere."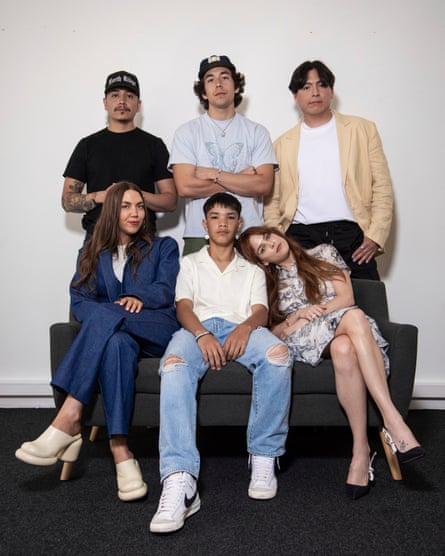 At the financing stage, the harmful stereotypes White warned against became evident. Potential backers felt the script wasn't bleak enough. It had too many light moments, or didn't ram the poverty home enough. "They wanted it to be more sad, more devastating," says Keough. "That really disturbed me."
To the film-makers' annoyance, more than once it was suggested that they insert a white character and white perspective into the film. "A white person they could identify with in the film, an entry point for a white audience," says Keough. For about five minutes they considered writing in a white journalist. "Then we took her right out," says Gammell. In the end, the biggest non-Indigenous character is a rich turkey farmer who deludedly believes he's a decent enough guy – written to show the insidiousness of casual racism."By the time it came to making the movie," says Gammell, "we were aggressively aware that we were two white film-makers making this movie. But we felt that if the other alternative was the film wasn't going to get made …"
Keough and Gammell are at pains to share credit with Reddy and Sioux Bob. In all the publicity material, the writers' names appear before the directors. "We were very much vessels for Bill and Franklin," says Gammell. "The collaboration remained intact the whole way through shooting."
Keough agrees: "What we wanted to achieve was to help facilitate showing Pine Ridge the way they see it, Billy and Frank; really take any of our thoughts or opinion out."
On set they discussed how to shoot the film collectively. Reddy had an aversion to the "cheap" handheld docu-style often used in films shot on the reservation. He wanted the audience to see the place's beauty. "The effort of the film became: how do Riley and I take ourselves out. That really became the goal," says Gammell.
"It's a fact that we are non-Indigenous people making a very Indigenous film. And I think it became the mission of the film to find a way to consciously and carefully collaborate. That collaboration is the thing we're proudest of."
Denial of responsibility!
WebToday is an automatic aggregator of the all world's media. In each content, the hyperlink to the primary source is specified. All trademarks belong to their rightful owners, all materials to their authors. If you are the owner of the content and do not want us to publish your materials, please contact us by email –
[email protected]
. The content will be deleted within 24 hours.