Israeli government approves hostages deal – Israeli media
In breaking news: Israeli news organisations Haaretz and Kan, the national broadcaster, report that Israel's cabinet has voted to approve the hostage deal, which would, Haaretz reports, "involve the exchange of hostages being held by the organization for Palestinian detainees in Israeli jails."
Citing a senior Israeli official, Haaretz reports that "the plan will see Hamas release 30 kidnapped children, eight mothers and 12 more women during a five-day cease-fire."
Key events
50 hostages, women and children, to be released over four days of pause in fighting – Israeli government
Reuters reports that the Israeli Prime Minister's office has announced that the deal, which has been approved by the cabinet, will see the release of 50 hostages, women and children, over four days, during which there will be pause in fighting.
Ceasefire to last at least four days, Times of Israel reports
The Times of Israel reports that in exchange for the release of hostages, "Israel has agreed to a ceasefire for at least four days for the first time since the outbreak of the war."
First hostages may be released on Thursday, if there is no challenge in Supreme Court
Earlier, Israeli media, including Channel 12 news, reported that if the deal was approved, the first release of hostages is expected on Thursday.
The delay is because if the deal is agreed to, there must be a 24-hour waiting period before it is implemented, to give Israeli citizens the chance to ask the Supreme Court to block the release of Palestinian prisoners, according to reports in Israeli media.
50 Israeli citizens to be released over a number of days, Times of Israel reports
The Times of Israel reports, citing an unnamed government official, that the deal voted on by Israel's cabinet will see the release of "50 living Israeli citizens, mostly women and children, in groups of 12-13 people per day."
"There was no immediate details on how ministers voted. While the vast majority of the government's 38 ministers backed the deal, representatives from the far-right Otzma Yehudit and Religious Zionism parties expressed opposition to the agreement ahead of the meeting," the Times of Israel reports.
"Not all details of the agreement have been formally released to the public, but an Israeli government official briefing reporters earlier Tuesday said that the deal is expected to see the release of 50 living Israeli citizens, mostly women and children, in groups of 12-13 people per day."
Hospitals in Israel preparing to receive hostages
Six hospitals in Israel are preparing to receive hostages, Haaretz reports. "They have established designated compounds to receive them, separate from other patients and the media."
The official Haaretz cites says that "all the branches of the Israeli security services – the IDF, the Shin Bet and the Mossad – support the planned deal. The official added that the agreement is only for Israelis who are still alive, adding that Hamas may release foreign nationals at the same time, in accordance with deals reached with those countries."
Israeli government approves hostages deal – Israeli media
In breaking news: Israeli news organisations Haaretz and Kan, the national broadcaster, report that Israel's cabinet has voted to approve the hostage deal, which would, Haaretz reports, "involve the exchange of hostages being held by the organization for Palestinian detainees in Israeli jails."
Citing a senior Israeli official, Haaretz reports that "the plan will see Hamas release 30 kidnapped children, eight mothers and 12 more women during a five-day cease-fire."
If you're just joining us, here is where things stand: Israel's government is meeting into the early hours of Wednesday to consider a deal for Palestinian Hamas militants to free some hostages in Gaza in exchange for a multi-day truce and the release of a greater number of Palestinian prisoners in Israel.
It is currently nearing 3am in Tel Aviv and Gaza City.
Officials from Qatar, which has been mediating negotiations, as well as the US, Israel and Hamas have for days been saying a deal was imminent.
Qatar Foreign Ministry spokesperson Majed Al-Ansari said the proposal on a hostage release deal was delivered to Israel in the early hours of Tuesday.
"The State of Qatar is awaiting the result of the Israeli government's vote on the proposal," he said.
Before gathering with his full government, Israeli Prime Minister Benjamin Netanyahu met on Tuesday with his war cabinet and wider national security cabinet over the deal.
A US official briefed on the discussions said the deal would include 50 hostages taken from Israel, mostly women and children, in exchange for 150 Palestinian prisoners and a pause in the fighting of four or five days.
The pause would also allow for humanitarian aid into Gaza.
US strikes two "facilities" in Iraq
The United States on Tuesday carried out strikes against two facilities in Iraq, the US military said.
"US Central Command forces conducted discrete, precision strikes against two facilities in Iraq," a statement from the USmilitary said.
"The strikes were in direct response to the attacks against US and Coalition forces by Iran and Iran-backed groups," the statement added.
These strikes appear to be in addition to the strikes reported a short while ago, which were described as being on "an Iranian-backed militia vehicle and a number of Iranian-backed militia personnel involved in [an attack last night by Iran-backed militias]."
Al Jazeera reports that a Palestinian has died, "as a result of being shot by occupation forces in the town of Azzun, east of Qalqilya, in the northern West Bank."
UN seeing 40% increase in diarrhoea cases in last fortnight, warns of child pneumonia risk
The UN Office for the Coordination of Humanitarian Affairs reports in its daily update from Gaza that there has been a 35% increase in skin diseases and a 40% increase in diarrhoea in the last two weeks as a result of "extremely overcrowded conditions" in UNRWA shelters.
"The poor sanitary conditions, combined with cold rain recently, has exacerbated the risk of epidemics and may lead to a spike in child pneumonia, according to the WHO," UNOCHA writes.
The Times of Israel has this report from the cabinet meeting where the hostage deal is being debated. "Ministers from the ultra-Orthodox Shas party have left the meeting after leaving a note saying they back the agreement," the Times of Israel reports, and there have been tense exchanges between ministers:
Several tense exchanges have reportedly occurred during the ongoing cabinet vote on a deal that will see Hamas release some 50 hostages — children, mothers, and women — in exchange for a ceasefire of 4-5 days and the release of 150-300 Palestinian prisoners.

According to leaks reported by Hebrew media, Minister Benny Gantz responds angrily to Finance Minister Bezalel Smotrich for expressing concern Hamas will seek to extend the ceasefire. Smotrich and his far-right Religious Zionism party have come out against the agreement.

"Do you trust [Yahya] Sinwar more than us?" Gantz is quoted as saying, referring to the Hamas chief in Gaza who Israel has accused of helping mastermind the October 7 massacres.

In another exchange, Likud ministers Miki Zohar and Gila Gamliel confront National Security Minister Itamar Ben Gvir for holding a faction meeting of his ultranationalist Otzma Yehudit party before the cabinet convened, after announcing he and his faction would vote against the agreement. Gamliel reportedly stresses to Ben Gvir the importance of unity.

"But we are not united," Ben Gvir says. "This is a decision with generational damage that will come back to hurt us badly."

Ministers from the ultra-Orthodox Shas party have left the meeting after leaving a note saying they back the agreement.
Which hostages have been released since 7 October?
Hamas has to date released only four hostages: US citizens Judith Raanan, 59, and her daughter, Natalie Raanan, 17, on 20 October, citing "humanitarian reasons," and Israeli women Nurit Cooper, 79, and Yocheved Lifshitz, 85, on 23 October.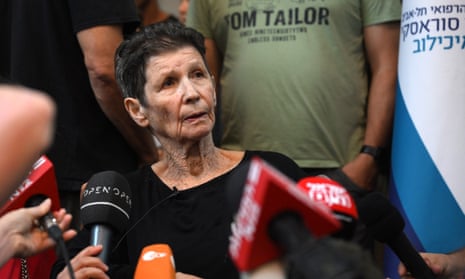 The armed wing of the Palestinian militant group Islamic Jihad, which participated in the 7 October raid with Hamas, said late on Tuesday that one of the Israeli hostages it has held since the attacks on Israel had died.
"We previously expressed our willingness to release her for humanitarian reasons, but the enemy was stalling and this led to her death," Al Quds Brigades said on its Telegram channel.
David Turner is a globe-trotting journalist who brings a global perspective to our readers. With a commitment to shedding light on international events, he explores complex geopolitical issues, offering a nuanced view of the world's most pressing challenges.