Socca, 41a South Audley Street, London W1K 2PS (020 3376 0000). Small plates £9-£35, pasta dishes £18-£48, mains £25-£66, desserts £12, wines from £47
Fancy Mayfair restaurants are full of older people wearing young people's shirts. Every night these tables are a study in the abject fear of mortality. Bring on the Botox and the fillers and the inappropriate piped music they're pretending to like. Add to that list the newly opened Socca bistro. It's not cheap, in the way the Himalayas are not flat and Boris Johnson is not honest. A salade Niçoise is £26. The lamb chops are £52. The cheapest bottle of wine is £47 (available retail for £11.20). To be able to pay these prices comfortably, you are likely to have reached a certain age.
And yet, as you push through the door, you are thumped in the sternum by the kick drum'n'bass thwack of high-volume tunes aimed at an entirely different demographic. Who thinks that's the right accompaniment to a menu like this, full of the sunshine and mellow warmth of the French Riviera? Presumably, it is restaurateur Samyukta Nair, who has spent the past few years filling these moneyed streets with expensive restaurants such as Bombay Bustle, Koyn and Mimi Mei Fair. I've read the press releases, rolled my eyes and moved on.
So why am I here? Because the chef at Socca is the great Lyon-born Claude Bosi, who is a rare and delightful creature. He cooks complex, precise multi-Michelin-starred food, but rarely loses sight of the need to sate appetites. At his first London restaurant Hibiscus, amid all the gastronomic knife juggling, he offered a sausage roll. It wasn't deconstructed or evolved or dressed in edible Louboutins. It was just a sausage roll; a brilliant one, made with flaky pastry and the best spiced, minced pork, with their own brown sauce on the side.
Socca, named after those rustic flatbreads made with chickpea flour, is designed to be Bosi's celebration of the food of the south of France, informed apparently by his memories of the long lunches he ate there with his family when he was a kid. If anybody can do that herb-scented, caper-spiked, olive-oil-dressed repertoire justice, it should be Bosi. I knew it would be punishingly expensive, but I was genuinely excited. So let's attempt to tune out the ludicrous music and get stuck in. Admire the eggshell-blue leather upholstery and the marble bar and all that art which looks like it might be by somebody famous. Take snapshots of the brass scallop-shell sconces and the little half-net curtains atop each side of the booths. It's a 3D mood board, for when you decide to remake your living room to look like an oligarch's vision of laid back and cool.
Fight off the suited and booted waiters who come at you in genteel waves, like gallant officers leading their troops out of the trenches. Wine lists full of triple digits land first with the cocktail list, when what you really want is the menu. That comes with a speech about sharing-plate concepts and order numbers, which has me doing mental maths: three from this side, you say, plus two from over there and maybe one from the column on the right? Is that correct? And here comes the bread. It's the first worrying sign. The focaccia has seemingly seen better days, that day possibly being yesterday. The sourdough is dry. A waiter sees us tearing at it, despairingly. He points us at the bottle of olive oil that looks black, because the glass is tinted. Odd call. Good olive oil is a lovely grassy colour. They've decided to make it look vaguely toxic. But it is good and helps the tired old bread out in its hour of need.
Let's be clear. Much of the food is very good. The £26 salade Niçoise is lovely in a quiet, understated way. Yes, it has crisp lettuce and peppers in it, but then here in Mayfair there aren't salad vegetable shortages, are there? You know the tuna is the good stuff, from those glass jars the price of which makes you twitch when you see it in the fancy local deli. There's a delightful whipped peak of pale pink taramasalata topped with crab alongside nutty, toasted sesame seed crackers.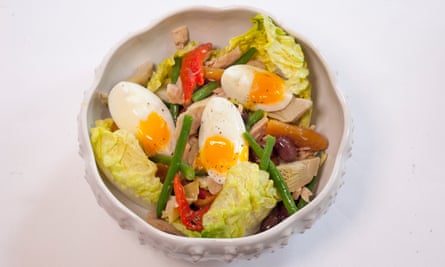 Included in a section of bigger dishes headed "Claude's favourites" is a dish entitled My Mum's Tripe and Cuttlefish Gratin. I had it when it was on the menu at Bibendum, his flagship restaurant in Fulham, and this £25 glazed terracotta dish of the deepest, stickiest most umami-rich night-dark stew is the best reason for coming here. It is the most humble of ingredients made princely. It is Bosi at his very best. A slab of roasted turbot for £48 is as good as it should be at that price and comes with a solid romesco sauce.
It's the missteps, like that bread, which baffle. A Menton tart is described as "pissaladière without anchovy". In other words, it's not as good as your actual pissaladière. It's a thick, drying spongy base laid with a meagre spread of caramelised onion. Their dauphinoise is made with heavy chunks of potato in a slippery, underpowered cream sauce rather than slices, as if there wasn't anyone in the kitchen prepared to risk the mandolin.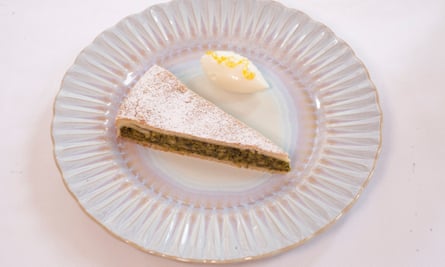 And then there's the Swiss chard tart dessert. Sorry, what? Yes, it is indeed a shortcrust pastry tart made with sugared Swiss chard and pine nuts. I fully understand that the rural peasantry had once to get through the hardest months by eating whatever was to hand, which might well include fashioning a dessert of sorts out of brassicas. That doesn't mean we have to eat it now. I ordered it because it's my job to do so and, as ever, so you wouldn't have to. It was like eating a sweet solidified cabbage soup. I should be thinking about the nicely made rum baba, or the hollowed-out lemon filled with the brightest of sunshiny lemon sorbets. But no, I'm fixated anxiously on memories of the Swiss chard pie.
As ever with Socca, I travelled hopefully. I wanted it to be fabulous, a restaurant which put the world on pause. I wanted that utter fabulousness to mitigate the price. But it was strange and uneven rather than the perfect it should be. Not that they should care. The tables were thronged with that metallic Lurex set, wide-eyed and stiff-browed. There is a brutally simple test I apply at the end of a night like this. Would I return to spend my own money? No, I'm not convinced I would.
News bites
The chef Joké Bakare is crowdfunding for a new home for her West African restaurant Chishuru, which traded in Brixton market to great acclaim (including from me) for a couple of years from September of 2020. The new site is a few minutes' walk from London's Oxford Circus. She needs £75,000 to get the business up and running and in return for funds is offering a range of dining options, both in the restaurant and at home. You can read more and donate here.
And news of another crowdfunder, this time to deal with costs arising from a senseless act of vandalism. In the early hours of 8 March, the windows of Flat Earth Pizzas in London's Bethnal Green were smashed in. This followed two other incidents over the past year. Flat Earth, which started as a series of popups in 2019, does have insurance for the damage but has a whole bunch of other costs, not least the installation of shutters so it can't happen again. You can donate here.
The food delivery business Just Eat is trialling a carbon footprint labelling scheme in Brighton. Main meals will get a carbon rating running from A, for a low carbon impact, through to E for a very high carbon impact. Participating businesses include BrewDog, Smoque Burger and Fat Burger and Desserts. The latter is also expanding the project to 40 other branches elsewhere in the country via the Just Eat platform.
Email Jay at [email protected] or follow him on Twitter @jayrayner1
Denial of responsibility!
WebToday is an automatic aggregator of the all world's media. In each content, the hyperlink to the primary source is specified. All trademarks belong to their rightful owners, all materials to their authors. If you are the owner of the content and do not want us to publish your materials, please contact us by email –
[email protected]
. The content will be deleted within 24 hours.